Diversity, Equity and Inclusion
At Cargill, we understand the work we do matters beyond where we clock in. We want every employee, candidate, supplier and partner to feel welcome, valued and heard. Understanding that there is more that unites us as colleagues, friends, family and neighbors than separates us as people. We're committed to you and all the people who help us feed the world. This is core to who we are and what we value as a company. Together, we'll connect to something greater.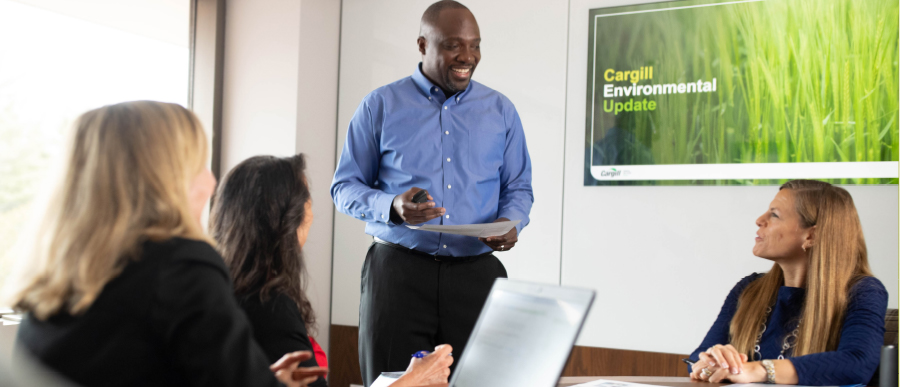 We Are Cargill
We are proud of our role in the world and the breadth of influence we have as a global business. We understand our collective impact begins with our actions and is felt by our employees and our communities. From every level of our organization, we foster a true sense of allyship by welcoming, supporting, accepting and encouraging every person to be authentically themself.
Our Path Forward
To achieve our purpose and feed a growing population, we need diverse perspectives at the table, so we can do our best work. That's why we're focused on increasing the diversity of our workforce, creating an inclusive environment and removing barriers to ensure equitable access.
Lead for Results

We rely on data and insights to hold ourselves accountable and guide how we connect with candidates, develop our talent and build an inclusive environment that enables our colleagues to thrive. Our Business Resource Groups support that work with essential perspective that enhances our recruiting and development efforts.

Build our Team

We constantly review our practices and policies to ensure they are free of bias so we can attract and develop diverse perspectives on our teams. We are also rethinking what development looks like and expanding our partnerships with external organizations who can help us accelerate our progress.

Shape our Communities

We are an active ally in our communities and in our supply chains on issues of race and discrimination. Our focus includes closing the education gap, leveraging our employee volunteer efforts and increasing the participation and profitability of farmers from underrepresented groups, to name a few.
Our Commitment
At Cargill, our actions match our values. We are committed to making the future of food and agriculture more diverse, equitable and inclusive. We are taking active steps to achieve gender parity by 2030, to advance underrepresented groups into leadership roles and by directly addressing anti-Black racism in the United States and Brazil.

CEO Action for Diversity
Cargill is committed to inclusion—and our executives are committed to leading large-scale change. We are proud of our CEO's pledge, showcasing Cargill's collective support to advance inclusion and diversity in the workplace.

Hispanic Promise
Cargill is a proud partner of We Are All Human, and signed the Hispanic Promise in 2019, pledging to hire, promote, retain and celebrate Hispanic employees in the workplace.

Paradigm for Parity
As a member of the Paradigm for Parity coalition, Cargill is taking action to address the corporate leadership gender gap and achieve equal leadership opportunities for women by 2030.

OneTen
In 2020, Cargill became a founding member of this coalition of CEOs and organizations, committed to hiring, upskilling and promoting Black talent into family-sustaining careers and creating inclusive cultures.
Black Equity at Work
In 2021, Cargill joined an inaugural cohort of leading employers pursuing Management Leadership for Tomorrow Black Equity at Work Certification. This rigorous, results-oriented roadmap helps achieve Black equity internally and provides guidance on supporting local communities.
I can talk to colleagues and managers without fear of discrimination. We're all the same, after all. We're not defined by our roles or our limitations. Azul

Administrative Assistant, Argentina
Women in the world are proving that we can make the impossible possible. We can take on any responsibility. We can do it all for our families and for ourselves. Salma

Technical Operator
Our Progress
We're proud to be home to more than 155,000 employees working across 70 countries. Every Cargill facility in the world values the individual contributions of our employees. Being a truly global company, we understand each region of the world presents unique challenges and opportunities to learn and grow as we strive to create a more diverse, equitable and inclusive workplace.
Women in
Leadership
As of 2020, 30% of global leadership roles
are filled by women*
We aspire to have 50% women in leadership roles globally by 2030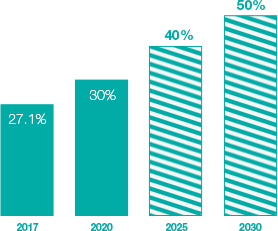 U.S. Minorities
in Leadership
As of 2020, 12% of U.S. leadership
roles are filled by U.S. minorities*
We aspire to have 20% U.S. minorities in leadership roles by 2030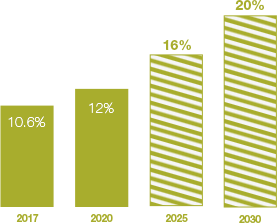 * These numbers are as of June 1, 2020
Business
Resource
Groups
We have nine Business Resource Groups, with more than 50 chapters and hundreds of members across the globe. Our resource groups are a great opportunity for employees to join a global community and connect with our diverse, global workforce. Feeling like you belong isn't exclusive to the members of our resource groups; a strong network of allies who support their colleagues allow our groups to spread their messages and for every person to feel welcome.
Awards and Recognition
We're proud to be recognized for our DEI efforts around the world. Take a look at a few of our accomplishments.
Hear From Our Employees
What does DEI
mean to you?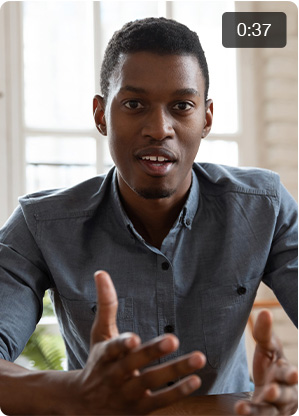 Gavin P.
How are you an ally to
your co-workers?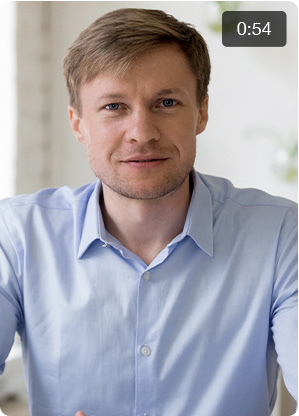 Scott R.
How does the support of your
BRG help you succeed?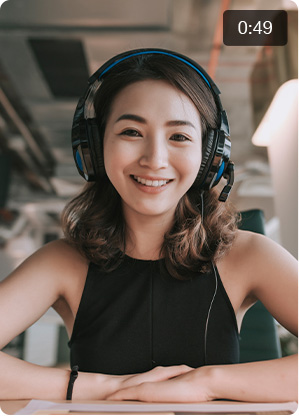 Erin R.
Total
Rewards
Our benefits are designed to help you live your best, most authentic life.
Learn More