Life at Cargill
At Cargill, everything begins with our purpose to nourish the world in a safe, responsible and sustainable way. Customers choose us for our world of expertise, delivered locally, quickly and reliably in a way that creates value together for them and us. Every day, we connect customers and suppliers to the world by developing personal relationships and setting the standard high on the way we work. When you join our team, you'll discover that our diverse businesses and products span a wide range of industries, geographies and disciplines. No matter what you want to accomplish, at Cargill, you're empowered to be your best. Join us to make connections, achieve your higher purpose and create a meaningful, global impact.
Our Business
The way we succeed is just as important as success itself. We approach business with a sense of respect and responsibility. Our purpose, vision, values and leadership expectations influence and inspire how we tackle everyday challenges … and create lasting, global impact.
See how our employees around the world have come together to nourish the world in a safe, responsible and sustainable way.
Read Our Annual Report
Our Purpose and Vision
Our purpose is to nourish the world in a safe, responsible and sustainable way
Our vision is to be the most trusted partner in agriculture, food and nutrition
Our Success
We are successful when employees choose us, customers prefer us, communities welcome us and owners earn an attractive return.
Our Values
Do the Right Thing
Put People First
Reach Higher
Our People
We're surrounded by the best and brightest minds that our industry has to offer. Some work in labs, fields and production plants while others wear hard hats, crunch numbers, research patents, lead cutting-edge digital transformations and invent new products. No matter your role, when you join the Cargill team, you'll work with passionate people ready to share their knowledge and experience.
Our values are at the core of how we work. They are also the source of our three leadership expectations that allow us to bring the outside in, energize for high performance and execute exceptional results.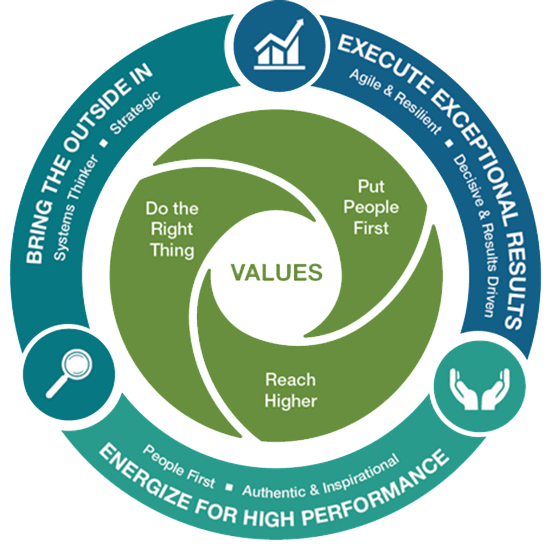 Bring the Outside In
Systems Thinker
Strategic
Executive Exceptional Results
Agile & Resilient
Decisive & Results Driven
Energize for High Performance
People First
Authentic & Inspirational
Values
Do the Right Thing
Put People First
Reach Higher
Personal and Career Development Opportunities
At Cargill, you own your career. Your drive to do things greater than yourself, and your passion for continued learning are key to our joint success. We're committed to your personal growth through the development of new skills and providing the opportunity for new experiences. You'll be supported at every step with tools, resources and a culture that values your professional goals.
Real-time digital learning: With access to skills-based digital learning opportunities any time anywhere, you can drive your own development and thrive in your career.
Group-based learning: You have the opportunity to engage in collaborative learning environments on critical topics, including leadership, management, inclusion and diversity, operations and more.
Global development: Cargill's size, global reach and broad business portfolio offers opportunities to fit almost anyone's career aspirations.
Career experiences: Development is more than a promotion or moving to a new position. We provide growth experiences—from stretch assignments to leadership opportunities—that help expand your career.
Business resource groups: Business resource groups are a great opportunity to belong to a global community where you can be yourself and connect with our diverse, global workforce.
Tuition reimbursement: What's your next step? Leverage tuition reimbursement opportunities for an eligible degree program.
Our Global Reach
We have an impressive worldwide reach that gives every employee global influence because of the ideas, products and services that we share and deliver. Our work touches the lives of people in every corner of the world, even locally in your own community. That's why we foster a culture that celebrates differences in our employees, our suppliers and our communities. Your unique talents, perspectives and life experiences are critical to our success.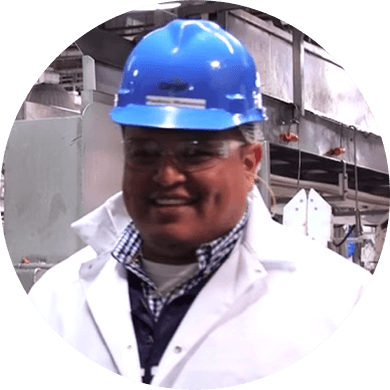 "That's the great thing about Cargill – they don't just limit you to one spot. They open the door for so many different opportunities, and you get to choose where you want to succeed."

Pedro R., Employee Experience Senior Specialist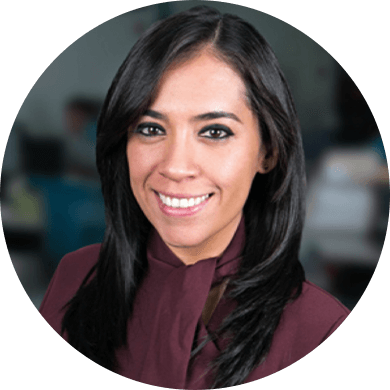 "At Cargill, you can own your own career path; you just have to define what you want. Every time I have a new dream, I just make that dream come true and keep on having fun."

Alejandra R.,Trading Manager
Our
Locations
Find where you can make an impact at a Cargill location near you.
Learn More